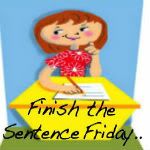 I took a Public Speaking course in college. (Kind of has that "I had a farm in Africa..." feel doesn't it? No? Well....) Why did I do this, you ask? Because I had to but I also had to take Badminton so none of it really made any sense anyway. (Shuttle Cock, anyone?)
Anyhoo... let's cut to the
"One of the most embarrassing things I ever did was…" part...
Long story short, I had to give a 5 minute speech on something that I can't for the life of me remember now. I had agonized over this particular project for weeks so the morning of, as you can imagine, I was petrified. I would have to stand up in-front of a classroom filled to the brim with my peers and sound intelligent, well put together, and even throw in a joke or two... SO I armored myself and prepared for battle in the best way a 22 year old girl knows how. I dressed fancy. Generously supporting undergarments, my favorite sparkly shirt to further enhance my... em... more noticeable attributes. Maybe they would be so entranced by my genetic abnormalities (I come from a family of modestly chested women. My chi-chi's were a freak of nature... and a back problem.) that my class mates would completely ignore the fact that I sucked. I chose a particularly sexy pair of tiny see-through, iridescent thongs to wear to match under my best butt-shaping pants. (Yeah... I know... But this was WAY before the body-breakers made their appearance) I added some substantial heels, my favorite lipstick, and I headed to class. How could I fail? I was 5 feet in 6 inch stilettos of pure fury and dead sexy!
Guess what guys... it wasn't the shoes that brought me low! This time, anyway....
I got to class, waited my turn, and gave my presentation. As walked back to take my seat, I was beaming. "Well, THAT wasn't so bad! I was great! They laughed at my jokes and I really kept everyone's attention. I am getting an "A" for this!"... and then I took my seat and looked down to see....
And my little, iridescent, see-through thongs winking up at me conspiratorially....
No wonder I kept their attention.
So, "
One of the most embarrassing things I ever did was…" give a 5 minute presentation with my zipper down in see-through underwear to a room full of 20-somethings.